Event: Stockholm World Water Week 2018 Session on "Groundwater-based natural infrastructure solutions: The missing link to resilience?"
Date: 26 – 31 August, 2018, Stockholm, Sweden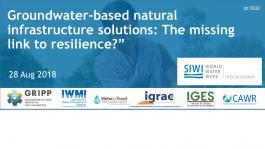 Kumamoto is a rare case of fully functional PES for over 13 years;

Willingness between buyers and sellers is one of the basic conditions for establishing PES. However, willingness are always not sufficient condition for groundwater recharge, which are difficult to quantify and verify;

Role of intermediary institutions such as local agriculture association is vital;
PES for groundwater recharge in Kumamoto was a win-win solution for all involved stakeholders;
Although agreement on payment mechanism is a key factor for the economic viability of PES in Kumamoto, monitoring and verification of groundwater recharge was at the core of the PES scheme and its success;
Offsetting scheme, monitoring and verification, and wider public support are the key lessons of PES in Kumamoto that could be replicated in other areas to establish ecosystem based recharge solutions for climate change adaptation.
Event: Stockholm World Water Week 2018 Session on "Groundwater-based natural infrastructure solutions: The missing link to resilience?"
Date: 26 – 31 August, 2018, Stockholm, Sweden