In Procedia Engineering
Volume (Issue): 198 ( 2017 )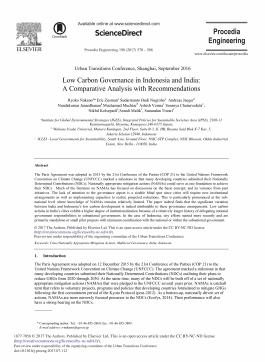 The Paris Agreement was adopted in 2015 by the 21st Conference of the Parties (COP 21) to the United Nations Framework Convention on Climate Change (UNFCCC) marked a milestone in that many developing countries submitted their Nationally
Determined Contributions (NDCs). Nationally appropriate mitigation actions (NAMAs) could serve as one foundation to achieve their NDCs. Much of the literature on NAMAs has focused on discussions on the basic concept, and its variance from past initiatives. The lack of attention to the governance aspect is a sizable blind spot since cities will require new institutional arrangements as well as implementing capacities to realize projected reductions. This is particularly pronounced at the subnational level where knowledge of NAMAs remains relatively limited. The paper indeed finds that the significant variation between India and Indonesia's low carbon development is indeed attributable to these governance arrangements. Low carbon actions in India's cities exhibit a higher degree of institutionalization because of a relatively longer history of delegating national government responsibilities to subnational governments. In the case of Indonesia, city efforts started more recently and are primarily standalone or small pilot projects with minimum coordination with the national or within the subnational government.
In Procedia Engineering
Volume (Issue): 198 ( 2017 )