Results 1 - 10 of 42
(Sorted by date)
IGES semiar_REDD+ Safeguards: Fundamental; Not an Add-on, Tokyo 4-5 December 2013
In Journal of Cleaner Production
This paper estimates the affordability of energy cost increases for energy-intensive companies due to the introduction of market-based climate policies in Korea. Data were collected from 62 respondents from iron & steel, cement and petrochemical industries, over 90% of which are under control of the 'Target Management Scheme', an ongoing mandatory...
Remarks:
A presentation at ACMSA 2013 (Asian Conference of Management Science and Applications) COP19交渉結果 途上国森林減少防止関連 REDD+ワルシャワフレームワーク The two day workshop, held in February 2013 in the scenic setting of the Kokoda Trial
Motel, by the Laloki river on the Sogeri Plateau, was the most recent in a succession of
workshops hosted by the Institute of National Affairs (INA) on the critical global theme,
but particularly for PNG, of climate change... 2nd the FY 2013 Assessment of Land Use Change, Carbon Stocks, and Profile of Farmers Interviewed in Khon Kaen Province, Thailand APPROACH TO SAFEGUARDS IN REDD+ PROJECT DESIGNS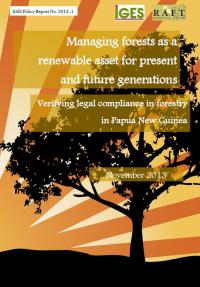 Managing forests as a renewable asset for present and future generations: Verifying legal compliance in forestry in Papua New Guinea
This report aims to contribute to the management of PNG's forests as a renewable natural asset for the collective benefit of all Papua New Guineans. It argues that to achieve these ends, illegalities in the forest sector need serious attention. The report aims to (i) provide a review of the illegal logging issue in PNG, (ii) identify the potential...
In Journal of Cleaner Production
This paper seeks to measure industrial energy saving activities (ESAs) and identify their determinant factors via an empirical study of companies in Hyogo, Japan. The surveyed companies exhibit high participation ratios in the pre-listed ESAs, especially those related to managerial measures. The classified factors are partly confirmed by...