Results 1 - 5 of 5
(Sorted by date)
Presented at APEC MINISTERS RESPONSIBLE FOR FORESTRY 26th-29th October 2015, Port Moresby
The two day workshop, held in February 2013 in the scenic setting of the Kokoda Trial
Motel, by the Laloki river on the Sogeri Plateau, was the most recent in a succession of
workshops hosted by the Institute of National Affairs (INA) on the critical global theme,
but particularly for PNG, of climate change...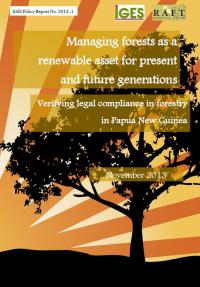 Managing forests as a renewable asset for present and future generations: Verifying legal compliance in forestry in Papua New Guinea
This report aims to contribute to the management of PNG's forests as a renewable natural asset for the collective benefit of all Papua New Guineans. It argues that to achieve these ends, illegalities in the forest sector need serious attention. The report aims to (i) provide a review of the illegal logging issue in PNG, (ii) identify the potential...