Results 1 - 10 of 15
(Sorted by date)
We analyzed the change in vegetated and urban (impervious) area in the Silang-Santa Rosa sub-watershed of the Philippines to assess the implications related to flood risk. Our main findings were: -The impervious area of sub-watershed increased by 54% (from 3,239 ha. to 4,988 ha.). -The vegetated area decreased by 21% (from 8,509 ha. to 6,760 ha)....
This dataset can be used by researchers to test different land use/land cover mapping methods using crowdsourced geographic data and Landsat satellite imagery. The study area is the Laguna de Bay area of the Philippines, and the satellite data is from 2014-2015. This dataset will also be available on the "UCI Machine Learning Repository" (https:/...
UCI Machine Learning Repository
This data set (
http://archive.ics.uci.edu/ml/datasets/Forest+type+mapping
) contains training and testing data from a remote sensing study which mapped different forest types based on their spectral characteristics at visible-to-near infrared wavelengths, using ASTER satellite imagery. The data set be used to evaluate the performance of different...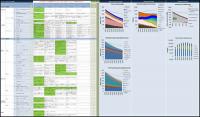 Japan 2050 Low Carbon Navigator (Excel Model)