Results 1 - 10 of 12
(Sorted by date)
Non Peer-reviewed Article
17th IUAPPA World Clean Air Congress and 9th CAA Better Air Quality Conference
Thematic Working Group on Air Quality 2016 平成28年度環境省委託業務 CCAC等のSLCPに関する国際レベルの活動支援委託業務 業務報告書
CCAC-MSWI Latin America Regional Municipal Solid Waste Workshop
This presentation-- delivered at the Latin America Regional Municipal Solid Waste Workshop held 31 March- 1 April 2016 in Washington, D.C., USA, organized by the Climate and Clean Air Coalition's Municipal Solid Waste Initiative (CCAC-MSWI)-- provides an overview of the IGES-developed emissions calculation tool for short-lived climate -pollutants...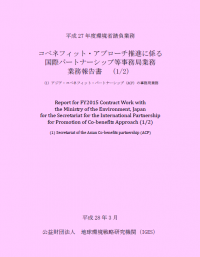 平成27年度環境省請負業務 コベネフィット・​アプローチ推進に係る国際パートナーシップ​等事務局業務
This report is for FY2015 contract work with the Ministry of the Environment, Japan as the Secretariat of the Asian Co-Benefits Partnership (ACP) for the international partnership for promotion of co-benefits approach.
This report is about the project with a purpose to promote cooperation on Co-benefits-type air pollution measures mainly in Asia. IGES provided advice to MOEJ on the activities of international organisations; supporting international SLCP mitigation activities such as the Climate and Clean Air Coalition to Reduce Short Lived Climate Pollutants...
The Atmospheric Pollution, Climate Change Nexus in Asia: Implications for a New Development Agenda
1. Although many criticized the SDGs for having too many goals and lacking prioritization, unfortunately, air pollution was one issue which was deemphasized.
2. Air pollution's position in SDGs is cloudy. In the SDGs, there is no headline goal on air pollution. Air pollution is specifically mentioned in 2 targets, under health (SDG3) and cities...