Results 1 - 10 of 108
(Sorted by date)
International workshop on sustainable waste management , Yangon- Myanmar
2nd Meeting of Low‐carbon Myanmar Working Group, 26 Dec 2013, Tokyo, Japan
In Korean Society
This research paper investigates the question of how governmental capacities can be better enacted to promote Sustainable Consumption under the Low Carbon Green Growth strategy in the Republic of Korea. It examines the strategies of the national government towards sustainability in 2010-2011 based on its Green Growth focus. The findings demonstrate... COP19交渉結果 途上国森林減少防止関連 REDD+ワルシャワフレームワーク Workshop on Sustainable Transition, Hayama, Japan
This presentation introduces IGES project on MRV of organic waste separation at source project in Phitsanulok Municipality in 2013.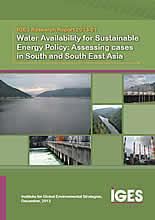 Water Availability for Sustainable Energy Policy: Assessing cases in South and South East Asia
IGES semiar_REDD+ Safeguards: Fundamental; Not an Add-on, Tokyo 4-5 December 2013