Event: 14th Integrated Assessment Modeling Consortium (IAMC) annal meeting
Date: 2nd December 2021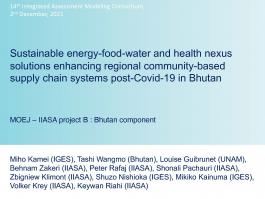 Presentation at IAMC annal meeting in December 2021. The project is a part of IIASA-MOEJ collaborative project B, Bhutan component.
The unexpected Covid-19 pandemic, however, hit global society at the end of 2019, and Bhutan
is no exception. Covid-19 has significantly highlighted the social systematic vulnerabilities in a global
context. In such a small nation as Bhutan, the lack of adequate infrastructure, basic daily necessities
(such as food and energy), and human resources have hugely affected the local economy and living
conditions. Inequality has also increased specifically in rural regions similar to many places both in
the global north and south. Therefore, there is an urgent necessity to restructure the national
development policies and local development strategies to adapt to a post-Covid-19 society. This research represents an investigation of key policy implications for constructing local community-
based resilient infrastructures that can enhance local basic needs supply chains (such as water, food, and energy) and maximize local health maintenance systems, which can also meet the decentralized
local demand and Bhutan's GNH perspectives (in SSP1).
Event: 14th Integrated Assessment Modeling Consortium (IAMC) annal meeting
Date: 2nd December 2021