Event: Regional Studies Association: Regions in Recovery, Building Sustainable Futures. Global E-Festival
Date: June 2-18. (Online)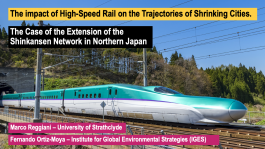 While shrinkage has been a debated topic in regional studies in the last decade, the shock brought by Covid-19 on the global economy adds further concerns for cities and regions already suffering from depopulation. As a result, a review of existing planning approaches and policies is necessary to inform change and support the future of cities and regions around the world. Prior to the pandemic, and notwithstanding the doubts cast on this strategy by case studies, planners and policymakers used to promote the construction of high-capacity transit infrastructures to curb decline in depopulating regions. The expansion of High-Speed Rail (HSR) in Japan to peripheral, and largely shrinking, regions is an example of this deeply rooted faith in growth and economic development as the key metrics to measure regional performance. Against this backdrop, this paper investigates the impact of HSR on the trajectories of five medium and small-sized shrinking municipalities connected to the Shinkansen network in the Prefectures of Iwate and Aomori, northern Japan. Evidence shows the HSR did not reverse shrinkage nor altered significantly underlying trends of decay, and that benefits are mainly found in increased accessibility, albeit unevenly distributed. While the paper highlights that the Shinkansen might contribute to economic resilience, results also hint at the enactment of regional core-periphery dynamics that might bring further decline to the smaller municipalities connected to the high-speed network. The paper argues that to reduce the effects of decline HSR must be accompanied by innovative policies at the local level and a change of current pro-growth models.
Event: Regional Studies Association: Regions in Recovery, Building Sustainable Futures. Global E-Festival
Date: June 2-18. (Online)