In Global Peatlands Assessment: The State of the World's Peatlands
Chapter: Chapter 4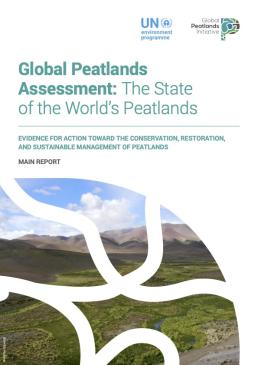 Peatlands are unique and rare ecosystems that, despite only covering around 3-4% of the planet's land surface, they contain up to one-third of the world's soil carbon, which is twice the amount of carbon as found in the world's forests. Keeping this carbon locked away is absolutely critical to achieving global climate goals. However, about 12% of current peatlands have been drained and degraded, contributing to 4% of annual global human-induced emissions.
The Global Peatlands Assessment (GPA) aims to provide a better understanding of what peatlands are, where they are found, what condition they are in and how actions can be taken to protect, restore and sustainably manage them. It also provides a valuable baseline for improvement against future assessments and paves the way for the development of a comprehensive global peatland inventory, as called for in the UNEA4/16 Resolution. It includes an updated Global Peatland Map, Regional Peatland Extent Maps, and other Hotspot Maps to highlight threats and opportunities for peatland management.
A major focus of this assessment is on how better peatland management can be deployed as a nature-based solution to halt biodiversity loss, support climate change adaptation and resilience, mitigate further climate change and support communities to improve the sustainability of their livelihoods living in these landscapes. It has been written to guide countries and decision-makers to advance sustainable peatland management by improving mapping, monitoring, and reporting efforts and to encourage urgent action to integrate peatlands into national climate strategies.
The GPA is the most comprehensive assessment of peatlands to date. It has been developed by the UNEP-led Global Peatlands Initiative and supported by a group of 226 peatland experts from all regions of the globe to establish the state of the world's peatlands.
In Global Peatlands Assessment: The State of the World's Peatlands
Chapter: Chapter 4