In Global Environment Outlook - GEO-6: Healthy Planet, Healthy People
Chapter: (Chapter 16)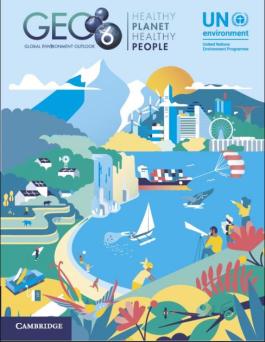 Various policy approaches show that water quantity and quality
have serious implications for human and ecosystem health, and
that these interactions are driven by changes in multiple sectors.
Governance is increasingly opened up to non-State actors, such
as the private sector and civil society. Decision-making thus
needs to consider the full range of sectors and actors so that
drivers and pressures (see Chapters 2 and 9) are addressed
in an integrated fashion, considering economic, social and
environmental issues. Achieving policy coherence and synergy
are important features of the nexus interactions between fresh
water and other sectors. Policy interventions should be designed
to exceed purely technical fixes. This does not diminish the
importance of provision of infrastructure such as wells, latrines
and dams, but such provision should be considered within the
complexity of a policy mix and with coherence in mind. In several
case studies, public participation and stakeholder engagement
have been implemented. However, the distribution of burdens
and benefits of policies could be improved to address issues of
equity and environmental justice.

The governance approaches and policy types examined in this
chapter were not assessed in terms of evaluating non-monetary
values. Where economic evaluations were conducted, trade-offs
were mainly captured in monetary terms, and typically failed
to assess impacts on human health or ecosystems. Negative
impacts of policies on health have typically focused on natural
hazards or infectious disease, and little has been done to
capitalize on the potential co-benefits on human health
(Grellier et al. 2017) or ecosystems.

Effective policies may be sought through active involvement
of stakeholders. However, devolution of water governance
does not necessarily result in better stakeholder
engagement, as illustrated in the disaster risk reduction
policy in England and Wales (Section 16.2.3); capacitybuilding
and long term efforts of awareness-raising and
knowledge use are also required to enable effective
stakeholder involvement.

Monitoring thresholds and baseline conditions are a key
component in the implementation of policy as well as
for ensuring its overall effectiveness. Baseline conditions
should be defined at implementation and subsequently
monitored, causal relationships should be hypothesized
and tested, and counterfactual thinking used to avoid
misattribution of policy effectiveness due to confounding
factors (Ferraro 2009). This is particularly true of access to
safe drinking water and sanitation.
In Global Environment Outlook - GEO-6: Healthy Planet, Healthy People
Chapter: (Chapter 16)