Event: The 6th International Symposium on Environment and Energy Finance Issues (ISEFI-2018)
Date: 24-25 May 2018, Paris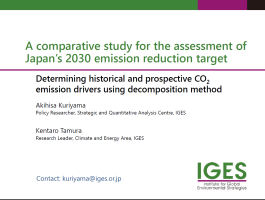 The assessment of mitigation targets is particularly important to provide mitigation opportunities for all stakeholders within a country. This paper assessed the mitigation ambition of Japan's 2030 emission reduction target determined by nationally determined contribution (NDC) for the Paris Agreement based on the comparison of main drivers for CO2 emissions using historical data and prospective data taken from integrated assessment models (IAMs). The comparative study finds that Japan's NDC is not always an ambitious target if each emission driver is compared with the historical trends and the results of IAMs for the following reasons. First, the GDP assumption under Japan's NDC could be overestimated. Second, the level of improving energy efficiency can be achieved by the measures already currently undertaken. The results of decomposition analysis for historical and prospective CO2 emissions show that the improvement of energy efficiency rather than a change in economic structure has brought about major emission reductions over the last ten years. Ahead of the 2030 target, Japan needs to continue its efforts to improve energy intensity as well as to reduce carbon intensity which had increased due to the nuclear accident in 2011. To facilitate more substantial discussion on the assessment of the emission reduction target, it is necessary to prepare comprehensive data that enables further decomposition of CO2 emissions including sector specific analysis.
Event: The 6th International Symposium on Environment and Energy Finance Issues (ISEFI-2018)
Date: 24-25 May 2018, Paris