Event: Energising the SDGs through Appropriate Technology and Governance International Conference
Date: July 4-5 (De Montfort University, Leicester, UK)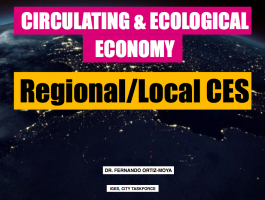 The "Circulating and Ecological Economy" is a potentially innovative addition to the myriad of sustainability frameworks put forward by worldwide governments for attaining a sustainable future together with climate change mitigation and adaptation. Launched by the Government of Japan in its Fifth Basic Environment Plan of 2018, this framework aims at simultaneously fostering resource circulation, decarbonisation, and building a more resilient society in harmony with nature by looking to territorial configurations and urban-rural linkages. Still in an embryonic stage, some regional and local authorities have hastened to experiment ways to apply its principles. Drawing on a systematic literature review on the different components forming this framework, this paper provides policy recommendations to guide the implementation of the Circulating and Ecological Economy.
Event: Energising the SDGs through Appropriate Technology and Governance International Conference
Date: July 4-5 (De Montfort University, Leicester, UK)