Event: The IPBES-JBF Sub-regional Dialogue Workshop on Indigenous and Local Knowledge (ILK) for South-East and North-East Asia sub-region
Date: 14-17 October 2016 in Chiang Mai Province, Thailand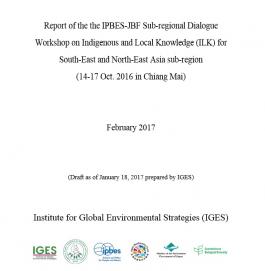 The Karen indigenous people have lived on a mixed agroecosystem centered on traditional rotational farming (RF) for over 300 years in mountainous northern Thailand. Over generations they have accumulated local knowledge on species and ecosystems that has enabled them to provide for their livelihood needs while managing the land and natural resources sustainably. However, the government blames their traditional agroecosystems for extensive forest loss and has introduced forest protection policies to minimise forest use as well as national agricultural targets that encourage the conversion of land under RF to intensive monocrop agriculture.
The Institute for Global Environmental Strategies (IGES), Japan (Dr. Jintana Kawasaki and co-researchers), in partnership with the Indigenous Knowledge and Peoples Foundation (IKAP), Thailand (Dr. Prasert Trakansuphakon) jointly conducted a study in 2015 to document the role of Karen's indigenous and local knowledge (ILK) in their management of the land and natural resources, with a view to enhance the policy recognition of the importance of Karen's ILK for the sustainability of biodiversity, ecosystems and cultural heritage of the Karen people. Data were collected from a field survey and interviews of 55 villagers in three Karen communities, conducted from 11-21 December 2015. The surveyed villages were Hin Lad Nai Village, Chiang Rai Province; Mae Yod Village, Chiang Mai Province; and Mae Um Pai Tai Village, Mae Hong Son Province. The three villages share similar geographic and climatic conditions, and while their patterns of land use are different, in all villages, RF is the dominant land use.
Event: The IPBES-JBF Sub-regional Dialogue Workshop on Indigenous and Local Knowledge (ILK) for South-East and North-East Asia sub-region
Date: 14-17 October 2016 in Chiang Mai Province, Thailand