In Journal of Education, Society and Behavioural Science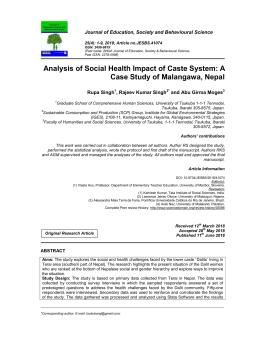 The study explores the social and health challenges faced by the lower caste `Dalits` living in Terai area (southern part of Nepal). The research highlights the present situation of the Dalit women who are ranked at the bottom of Nepalese social and gender hierarchy and explore ways to improve the situation.The study is based on primary data collected from Terai in Nepal. The data was collected by conducting survey interviews in which the sampled respondents answered a set of predesigned questions to address the health challenges faced by the Dalit community. Fifty-one respondents were interviewed. Secondary data was used to reinforce and corroborate the findings of the study. The data gathered was processed and analyzed and the results were used to make recommendations to all the relevant stakeholders working in Social health sector.

The research reveals how social hierarchy influences health situation in communities in a southern part of Nepal with emphasis on the social health of the population under consideration. The study has also found that despite the effort of the Government to outlaw marginalization of Dalits by abolishing the caste system, the social caste system remains in practice across the country. The social ills such as unequal access to employment, education, health and clean drinking water and toilets still characterize many homes for the Dalits. Other challenges suffered by the Dalits include employment discrimination, high levels of illiteracy and exclusion from general political leadership.

The study finally recommends that there must be training and awareness program in the communities to make the society free from discrimination as well as provide increased access to education for the Dalits through among other ways, access to adult education as a way of empowering them.
In Journal of Education, Society and Behavioural Science