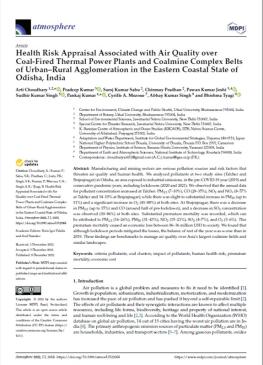 Manufacturing and mining sectors are serious pollution sources and risk factors that
threaten air quality and human health. We analyzed pollutants at two study sites (Talcher and
Brajrajnagar) in Odisha, an area exposed to industrial emissions, in the pre-COVID-19 year (2019) and
consecutive pandemic years, including lockdowns (2020 and 2021). We observed that the annual data
for pollutant concentration increased at Talcher: PM2.5 (7–10%), CO (29–35%), NO2 and NOx (8–57%
at Talcher and 14–19% at Brajrajnagar); while there was slight to substantial increase in PM10 (up to
11%) and a significant increase in O3 (41–88%) at both sites. At Brajrajnagar, there was a decrease
in PM2.5 (up to 15%) and CO (around half of pre-lockdown), and a decrease in SO2 concentration
was observed (30–86%) at both sites. Substantial premature mortality was recorded, which can
be attributed to PM2.5 (16–26%), PM10 (31–43%), NO2 (15–21%), SO2 (4–7%), and O3 (3–6%). This
premature mortality caused an economic loss between 86–36 million USD to society. We found that
although lockdown periods mitigated the losses, the balance of rest of the year was worse than in
2019. These findings are benchmarks to manage air quality over Asia's largest coalmine fields and
similar landscapes.