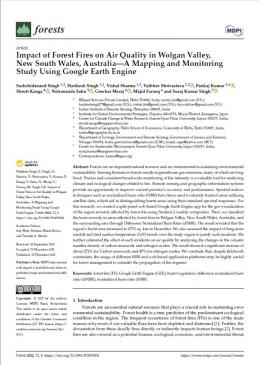 Forests are an important natural resource and are instrumental in sustaining environmental
sustainability. Burning biomass in forests results in greenhouse gas emissions, many of which are longlived.
Precise and consistent broad-scale monitoring of fire intensity is a valuable tool for analyzing
climate and ecological changes related to fire. Remote sensing and geographic information systems
provide an opportunity to improve current practice's accuracy and performance. Spectral indices
techniques such as normalized burn ratio (NBR) have been used to identify burned areas utilizing
satellite data, which aid in distinguishing burnt areas using their standard spectral responses. For
this research, we created a split-panel web-based Google Earth Engine app for the geo-visualization
of the region severely affected by forest fire using Sentinel 2 weekly composites. Then, we classified
the burn severity in areas affected by forest fires in Wolgan Valley, New South Wales, Australia, and
the surrounding area through Difference Normalized Burn Ratio (dNBR). The result revealed that the
region's burnt area increased to 6731 sq. km in December. We also assessed the impact of long-term
rainfall and land surface temperature (LST) trends over the study region to justify such incidents. We
further estimated the effect of such incidents on air quality by analyzing the changes in the column
number density of carbon monoxide and nitrogen oxides. The result showed a significant increase of
about 272% for Carbon monoxide and 45% for nitrogen oxides. We conclude that, despite fieldwork
constraints, the usage of different NBR and web-based application platforms may be highly useful
for forest management to consider the propagation of fire regimes.