In Urban Sustainability
Volume (Issue): 1, 17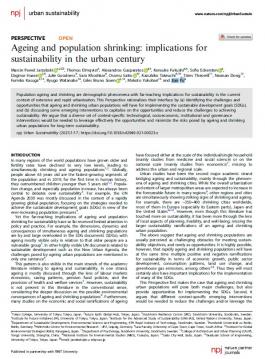 Population ageing and shrinking are demographic phenomena with far-reaching implications for sustainability in the current context of extensive and rapid urbanization. This Perspective rationalizes their interface by (a) identifying the challenges and opportunities that ageing and shrinking urban populations will have for implementing the sustainable development goals (SDGs), and (b) discussing some emerging interventions to capitalise on the opportunities and reduce the challenges to achieving sustainability. We argue that a diverse set of context-specific technological, socioeconomic, institutional and governance interventions would be needed to leverage effectively the opportunities and minimize the risks posed by ageing and shrinking urban populations for long-term sustainability.
In Urban Sustainability
Volume (Issue): 1, 17