Objectives of the SDM
The SDM funds projects that contribute to the maintenance and enhancement of biodiversity in socio-ecological production landscapes and seascapes (SEPLS) and other global frameworks such as the Aichi Biodiversity Targets and the Sustainable Development Goals (SDGs), and thereby embody the IPSI Strategy and Plan of Action and the three core objectives of the SDM. The SDM selects the projects proposed by IPSI members, and then awards each selected project with up to USD 10,000. By enabling these projects, the SDM also gives them the visibility they may need to attract additional resources. Overall, there are three core objectives in the SDM as seen below.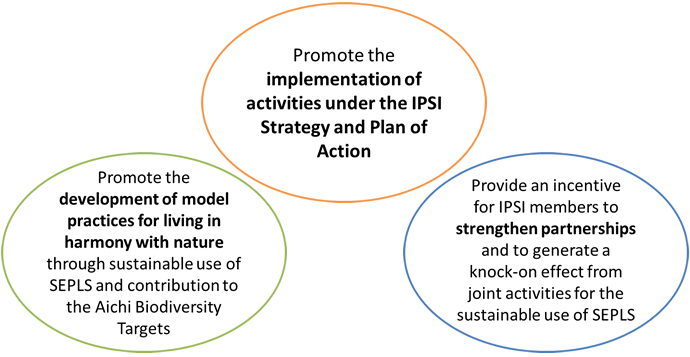 There are four types of projects in the SDM as seen below. The recipients select one of them in line with their project objectives.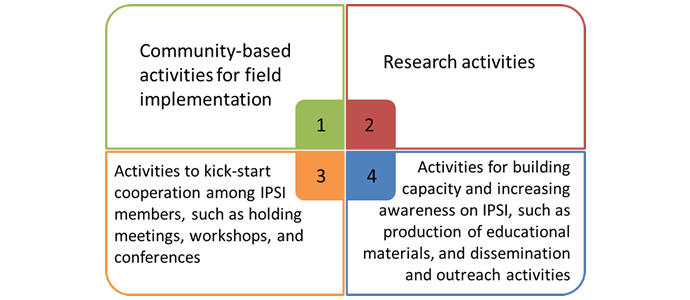 The SDM organization is composed of three entities, the Executive Board, the Advisory Group, and the SDM Secretariat.
Executive Board
The Executive Board is responsible for making decisions on, and supervising the implementation of, the SDM. This includes the selection of projects, review and evaluation of achievements, and dissemination of information on the SDM. It is represented by the following organizations:
Ministry of the Environment of Japan (MOEJ)
The United Nations University Institute for the Advanced Study of Sustainability (UNU-IAS)
The Institute for Global Environmental Strategies (IGES)
Advisory Group
The Advisory Group provides advice on the design of the SDM. Their advice helps ensure the relevance of SDM projects to the IPSI Strategy and Plan of Action and other global frameworks including the Aichi Biodiversity Targets and the Sustainable Development Goals (SDGs). They also advise on the compilation and dissemination of SDM outcomes. The following members of the Advisory Group have been appointed by the Executive Board:
IPSI members with relevant experience and qualification in similar grant management and activities of the CBD, and
the Chair of the IPSI Steering Committee.
SDM Secretariat
The SDM Secretariat is mandated to implement SDM operations including, but not limited to, the tasks listed below. These tasks are subject to the decisions made by the Executive Board and implemented under its supervision.
Planning and implementing the SDM project selection process
Contracting and disbursing funds to the selected Grant recipients
Monitoring and evaluating the SDM projects
Collecting, organizing and disseminating knowledge generated by the SDM projects
Reporting on the above activities to the Executive Board.
The Secretariat staff are staff of the following organizations:
Institute for Global Environmental Strategies (IGES)
United Nations University Institute for the Advanced Study of Sustainability (UNU-IAS)